Welcome to P-38.net home of the military can opener. This site is dedicated to the P-38 can opener, a magnificent tool that almost every veteran has encountered since it's introduction.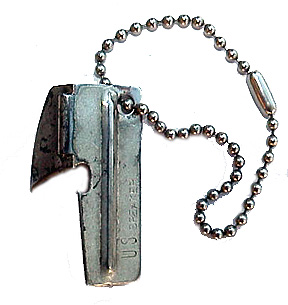 In the "WORKS" for 2011
Over the next few months we will be adding content to this site. We have compiled an extensive collection of information and data on the military can openers but we encourage anyone that anything to contribute to please forward information to us so that we might include it here in our comprehensive web site dedicated to the P-38 military can openers.
Mr. Alfred Wood, contacted us in early 2008 and passed on some more patent information as it relates to the p-38 can opener. Mr. Wood found a patent dating from 1922 that questions the origins of the WWII can opener. Mr. Wood's contribution caused us to do some more research. We have found many other patents that are directly related to the p-38 style can opener. We have been compiling the newly found data and hope to have it posted soon on our patent information page, located -HERE-.
---
P-38 "Lighting" Aircraft
The P-38 "Lighting" is one of those instantly recognizable icons of the Second World War. Much like the P-38 can opener which was considered one of the greatest inventions of all time, the P-38 "Lighting" was also considered to be cutting edge for the period.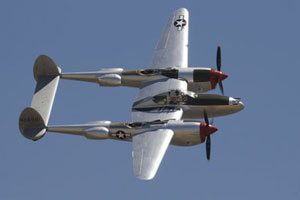 This plane was recognizable by it's unique design and distinct silhouette with the dual fuselage and twin engines. This aircraft was one of my favorite growing up as a child. I have always been fascinated by this plane, I remember going with my father to air shows and seeing these planes up close and personal. The greatest thrill was to see them actually fly, they have tremendous power.
There are many web sites on the Internet dedicated to these wonderful planes but two that stand out are Aviation History and Mark Winthrop's P-38 web site.
While these planes are wonderful in and of themselves, they are not the primary focus of this web site. The interesting thing is that these aircraft are from the same era as the P-38 can openers and they share a common name. It is that shared common name that brings us to mention the planes here on a site that is dedicated to the P38 can opener.
---
P-38 PISTOL
Planes and can openers were not the only things that shared the P-38 name during WWII the famous pistol used by the German Army also was known as the P-38.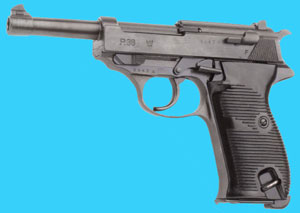 This WWII veteran is known to many as a P-38 while others refer to it as the Walther P-38.
Like the aircraft the P-38 pistol has many wonderful and informative sites on the internet chock full of information. A couple of good links can be found here: ALPS, Ol' Army Joel's and World Guns.
The pistol was a 9mm pistol and was produced to replace the aging Luger. The German military or the Werhmacht adapted the pistol as standard issue during WWII and it was referred to as "Pistole 38."
The pistol is a recoil-operated, lock breech design that incorporates a double-action trigger. The pistol also had a manual safety and loaded chamber indicator. Since it's introduction there have been various manufactures of the gun including Walter, Mauser and Spree-Werke.
While the P-38 "Lighting" and P-38 pistols are definitely icons of WWII there are many sites dedicated to history and information of each. This site focuses on the history and information of the P-38 can opener. We only mention here the airplane and handgun because they have the same nomenclature in their name.
---
We have started to deploy our new pages with content. Click on History of -HERE- to be taken to our updated pages.
If you have anything to contribute please e-mail us: info@p-38.net
We are seeking:
Testimonials from people who have used the P-38
History on the origin of the "John Wayne" name given to the P-38
Stories from Vet's
Nomenclature Data and Information
Patent Drawings, Data and Information
Thought's from those who don't like the P-38
News articles that make reference to the P-38
Literature that makes reference to the P-38
Web Sites that have historical information or references to the P-38
Anything related to the P-38
Check back often as we will be updating this site daily.
Contact us direct:
Tactical Support Module™

- Click on photo to enter TSM™ -
---
History | Photos | Links | Read Me
Template design by RTB Wizards